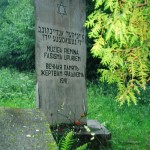 Location of the monument:
Latitude: 55.900879
Longitude: 27.136525
With the beginning of the Nazi occupation of Krāslava, already on 29 June 1941 the local self–defenders began arresting and shooting some Jews. At the end of July mass–scale arrests began, as the result of which the Jews of Krāslava (approximately 1000 people) were placed in two synagogues and adjacent buildings. On 26 July 1941 the arrested Jews were convoyed to Daugavpils ghetto; the feeblest were shot on the way (approximately 40 persons). In August local self–defenders and policemen arrested a couple of hundred Jews from Krāslava more. Part of them was taken to the Augustovka Ravine (approximately 1 km from Krāslava) and a part of them – to the bank of the Daugava River near turpentine factory and were shot there.
A monument on the site of massacre in the Augustovka Ravine was erected during the Soviet period. The Star of David and inscription in Latvian and Russian "Eternal Remembrance to the Victims of Fascism" are engraved on it, the inscription in Yiddish states – "Eternal Remembrance to the Jews who were Shot".
Further reading:
Meler M. Jewish Latvia: Sites to Remember. Tel-Aviv: Association of Latvian and Estonian Jews in Israel, 2013.
Ezergailis A. The Holocaust in Latvia, 1941-1944: The Missing Center. Riga: The Historical Institute of Latvia; Washington, DC: US Holocaust Memorial Museum, 1996.

Search for the related names of Jews at http://names.lu.lv.